Preparatory measurements in Hamburg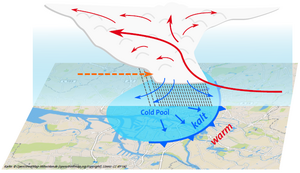 One contribution to FESSTVaL comes from the Meteorological Institute of the University of Hamburg and the Max Planck Institute for Meteorology. For 2020, the main campaign for the main FESSTVaL in Lindenberg was relocated to Hamburg, so that additional and preparatory measurements will be carried out in the city this summer.
The aim is to investigate cold pools - small-scale areas of cold air below raining clouds that often arise during thunderstorms (a sketch of this phenomenon is shown in the figure on the right).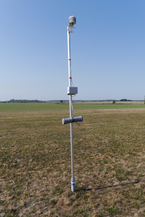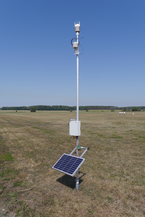 The measuring stations used were developed and built by at our institute for the special requirements of such a campaign. The stations run autonomously and require neither electricity nor data connection.
As for the main campaign, there are two different types. Which station is used at a location depends on the direct environment and the distribution throughout the city.
Type APOLLO = Autonomous Cold Pool Logger
Measured variables: temperature, air pressure

Recording: every second

Battery life: 10 to 14 days

Type WXT = Weather Transmitter Vaisala WXT 536
Measured variables: temperature, air humidity, air pressure, wind

Recording: every 10 seconds

Battery life: infinite (solar powered)